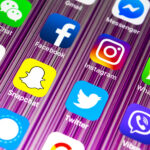 We spend a good amount of time sending and receiving digital messages each and every day, especially as our lives have become homebound with the pandemic. From texts that amount to "LOL" to more elaborate emails, tweets and Facebook posts, we now have more communication online than offline. So, how do we help our kids learn the digital rules of the road? We guide them to getting it RITE. 
Most days, everything goes smoothly. But, once in a while, we hit a digital snag. Perhaps one of these scenarios sounds familiar or has even happened to you:
1. Someone sends you a text, email or Facebook message that riles you up so feverishly reply back and hit send before you give yourself a chance to let your emotions settle. As they do, you wonder: "Perhaps that message was too much. Should I have waited to send it or not sent it at all?"
2. You sent an email or text intended for one person to another person by mistake…or to a group of people?
These situations can occur so easily, especially in our current lives and our kids' lives, as our world of communication has become 24/7, portable and mobile. No longer are we talking about just mobile technology but wearable technology. So, it's easy to see how innocent mistakes can occur, especially when we are rushed or feeling riled up by a message. Just as we feel the uneasiness communicating with our colleagues and friends entirely online, our kids do, too. Unlike us, though, our kids are still learning the rules of the online world. To help them understand how to slow down with their online communication and avoid some of the traps we had to learn as digital world was evolving before our eyes, talk to them about your experiences. Kids do great knowing you get it and don't love this new socially online world we are in.
In addition, here's a tool you can teach them that will help them slow down a bit when they are writing an email, text or post so they can avoid falling into the trap of sending a message they may not have wanted to send. The goal for them is to get the message RITE:

R: Reread every message to be sure it sounds OK and is what you really want to send.
I: Imagine if you were the one receiving the message…would you be upset or hurt by what it says?
T: Think about whether it needs to be sent now or can it wait a bit. Sometimes waiting and re-reading the message later can avoid a big mess later on. (You may even find that you'd rather not send the message afterall!)
E: hit the Enter button only after you are satisfied that R-I-T are to your satisfaction.
Social distancing and masks will start to become less important in our lives at some point in the future but digital communication will still be how we all communicate. So, let's help our kids get it right today and write it RITE.