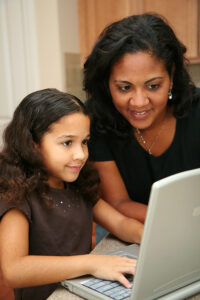 Teaching kids how to be social is not an easy task. Add to it our new normal with extra screens and we now find ourselves  with in a land without landmarks or a tour guide. Luckily, we do have one thing going for us: a life time of communication pre-covid that we can use to guide our kids.  This is one are of our kids lives where we can be their best experts.
Here are some suggestions to talk to your kids about as they start to use more screens and social media for helping them be the best communicators, online and offline. These are great tips for adults, too!
Treat people as you'd have them treat you.
Don't write anything online you would feel uncomfortable saying to a person or over the phone.
Shooting from the hip never produces good results. Count to 10 and then think before you write or speak.
Calling people names, even if you intend it as a joke, can feel hurtful to the other person and sometimes can be seen as bullying.
Gossiping is a form of slander. For kids, this means that it's not a good thing to do and can get them into a lot of trouble. For adults, people have to realize that gossip can have a significant kickback that goes beyond public embarrassment. You never know who is around, so be careful who you talk about and the setting you are talking in. Being a good role model helps kids learn to avoid this trap.
Don't use code online. Instead, try to use real words and full sentences. Code can be difficult to interpret and sometimes has meanings beyond what you intend.
Never give out personal information online or off.
Don't email or post inappropriate pictures of videos. Not only can these images be embarrassing but can break laws in many states.
If someone asks you to keep a secret from your parents, let your parents know.
If you are ever in a dangerous or destructive, or unsafe situation online or off, find a grown-up right away.
Adults are not the enemy – they have judgement you don't yet have. Don't be mad if a grown-up in your life tries to get you to talk about something you are doing online or off. They grownups job is to keep you safe, which is also one of the best ways the grown-up can show you he or she cares
COVID may be a mystery to us and overwhelming with all the changes it has done to our lives. But talking and socializing…we can can teach our kids about that part of life by just being with them every day at our own dinner table.
(Modified from Chapter 7 of CyberSafe, Screen Time and Childhood)