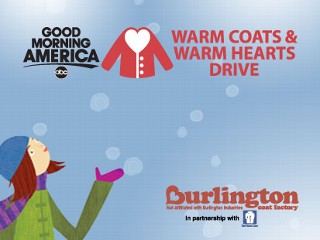 Good Morning America and Burlington Coat Factory are once again teaming up the Warm Coats and Warm Hearts drive. Attempting to beat last year's 175,000 plus of coats collected, this year's drive began Thanksgiving week and will continue through January 16, 2009. Coats can be dropped off at any Burlington Coat Factory store and donations are tax deductible. In addition to coats, the drive will also accept other winter wear such as sweaters, hats, gloves, scarfs, and sweatshirts.
On Good Morning America, many people have already come out to give coats and funds to this second annual coat drive, including the Jonas Brothers.
Coat drives are one of my favorite holiday charities. Those with unused coats will feel good knowing people in need will be warm during the cold winter months. And, people in need won't have to worry about staying warm when those cold days and nights strike. Everyone wins!

For more information on the drive, check out these links:

Burlington Coat Factory locations for coat drop off
Groups that will benefit from the coats
As the coat drive's motto says, "This Winter share the warmth"!!